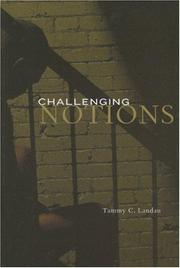 HV6250.3.C3
L36
2006
Challenging notions : critical victimology in Canada
Toronto : Canadian Scholars' Press, 2006.
146 p. : ill. ; 23 cm.
This ground-breaking work explores the world of victims and asks: How do we define and understand victims? Dr. Landau demonstrates that the study of victimology raises many challenging intellectual and practical issues, such as the relationship between the victim and the state, the inherently moral dimensions of victim status, and the influence of various forms of social inequality on our understanding of, and response to, victimization. Featuring excellent scholarship, well-chosen examples, and Canadian content, this title is sure to become an important part of the literature on victims in Canada.
Available
Books
2 copies available at St. Clair College - Windsor/South Campus
| Field | Ind | Subfield | Data |
| --- | --- | --- | --- |
| 001 001 | | | 3854795 |
| 005 005 | | | 20190118152642.0 |
| 008 008 | | | 061117s2006 onca b 000 0 eng |
| 010 LCCN | | $o | 76800485 |
| 016 016 | | $a 016 | 20069065578 |
| 020 ISBN | | $a ISBN | 978-1-55130-308-6 |
| 020 ISBN | | $a ISBN | 978-1-55130-308-6 |
| 035 System Ctrl No | | $a System control number | (Sirsi) AJE-0021 |
| 040 Cataloging Src | | $a Original cataloging agency | NLC |
| | | $b Language of cataloging | eng |
| | | $c Transcribing agency | NLC |
| | | $d Modifying agency | C#P |
| | | $d Modifying agency | BAKER |
| | | $d Modifying agency | OTBIB |
| 043 043 | | $a 043 | n-cn--- |
| 050 LC Call No | 4 | $a Classification number | HV6250.3.C3 |
| | | $b Item number | L36 2006 |
| 082 Dewey Class No | 0 | $a Classification number | 362.880971 |
| | | $2 Edition number | 22 |
| 100 ME:PersonalName | 1 | $a Personal name | Landau, Tammy. |
| 245 Title | 10 | $a Title | Challenging notions : |
| | | $b Remainder of title | critical victimology in Canada / |
| | | $c Statement of responsibility | Tammy C. Landau. |
| 260 PublicationInfo | | $a Place of publication, dist. | Toronto : |
| | | $b Name of publisher, dist, etc | Canadian Scholars' Press, |
| | | $c Date of publication, dist, etc | 2006. |
| 300 Physical Desc | | $a Extent | 146 p. : |
| | | $b Other physical details | ill. ; |
| | | $c Dimensions | 23 cm. |
| 504 BibliogrphyNote | | $a Bibliography, etc. note | Includes bibliographical references (p. 131-141). |
| 650 Subj. | 0 | $a Topical heading | Victims of crimes |
| | | $z Geographical subdivision | Canada |
| | | $v | Textbooks. |
| 852 Holdings | | $a Location | 221 |
| | | $h Classification part | HV6250.3.C3 L36 2006 |
| | | $p Barcode | 218069 |
| | | $9 Cost | $34.95 |
| 852 Holdings | | $a Location | 221 |
| | | $h Classification part | HV6250.3.C3 L36 2006 |
| | | $p Barcode | 220002 |
| | | $9 Cost | $0.00 |
| 856 ElectronicLocat | 4 | $3 Materials specified | Cover image |
| | | $u Uniform Resource Identifier | https://covers.openlibrary.org/b/id/1866498-M.jpg |